Pinterest is slowly but surely gaining vast popularity as a social networking site. We have recently seen social signals are being considered as important factors for search rankings. Facebook likes and shares, Twitter tweets and Google +1s have been positively correlated with higher search rankings. This experiment in fact establishes the impact of social media on SEO.
In this context, a much discussed topic amongst SEO professionals is how to use Pinterest for maximum SEO benefits.
Here are 4 tips to do so:
1. Use Pinterest for Online Reputation Management
Optimize your Pinterest profile with the right keywords and link it to your main website. This ensures that the Pinterest profile also shows up high on the SERP along with your main website and other social media profiles. As a result, you have greater control on your brand's search results, making sure that only positive results appear at the top. This is a great help in online reputation management. In her post on KISSmetrics, Kristi Hines marks the on-site SEO elements of your Pinterest profile.
2. Optimize Your Pin Descriptions for SEO
Pinterest allows you a generous 500 characters limit for describing your photo/image. Use it wisely and make it as keyword rich as you can. Google bots can crawl and index Pinterest data and it in not uncommon to find Pinterest results at the top of the SERP like this one.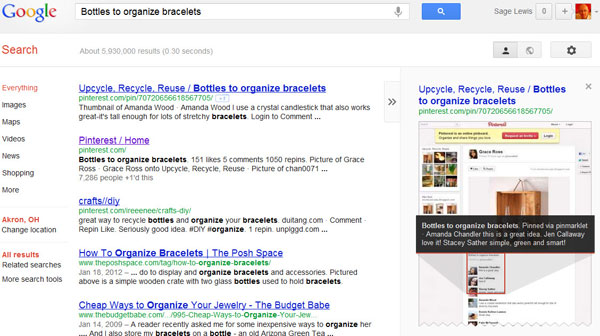 Result #2 is from Pinterest
3. Optimizing Your Pins for SEO
Currently back links from Pinterest are no follow. But the source urls for pins are dofollow and can provide you link juice to that extent. So make sure your images are linked back to the page on your website where the image lies.
Click here for an article that explains each of the above points in depth.
4. Use Pinterest Not As an SEO Tool
Confused? Let me explain.
The fact is Pinterest is not an SEO tool, but a social media site the purpose of which is to create relationships and add value to the community. And if you do this, the SEO parameters will be automatically taken care of.
For instance, pin relevant images, videos, infographics that add value to readers. Such images are likely to be repined and shared, resulting in stronger social signals for SEO.
Do not only pin your own images and photos. Focus more on adding value to the community by pinning other (peoples') images and photos that you find of value and relevance. This not only establishes your reputation as a genuine well wisher for the community (rather than a blatant self promoter), but will also earn reciprocal pins and repins for your own images.
What are your views on using Pinterest for SEO? Do let us know in the comments.
Related articles
4 Comments

Archives