The holiday shopping season has come early this year.
Holiday emails are filling the inboxes. Companies are rolling out with promotions and discounts early this year in an attempt to win over customers before the big shopping even happens on Black Friday and Cyber Monday.
You may already have your holiday email plan ready to go, but it's good to be flexible heading into the last minute shopping season.
December will be here shortly and there are a few things you can do to capture last minute holiday shoppers as they rush to get gifts for loved ones.
Here are 10 email ideas for last minute holiday emails.
1. Last Shipping Days
Three of the biggest days of the year in December are the final days you can guarantee shipment on a product in time for Christmas. Mark these days down on your calendar and create reminder emails. People are driven by urgency and they'll appreciate the reminder.
Consider the final day for standard, two-day and overnight shipping.
2. Focus on the Host
Usually by the end of the holiday shopping season everybody has gotten gifts.
What about the host of the holiday events?
If your sell something the host might forget be sure to remind them. Create a checklist of all the items needed for Christmas dinner. It could include extra tableware, folding chairs, air mattresses or anything else the host might need.
3. Remind People About Download Gifts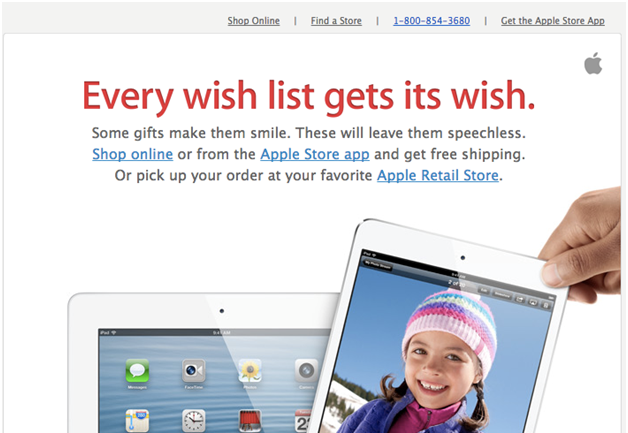 Apple offers lots of options for last minute gifts.
Not every gift needs to be shipped or picked up. You can remind people all the way up to Christmas morning that they can still give download gifts. This could be anything from music to books to gift certificates. There is always that last minute gift a person needs to get. It's impossible to remember everything for every party.
4. Thank You Gifts
Do you sell something that could be given as a thank you gift? It could be cards or stationary or any of a few different things. As the final days approach before the holidays remind your customers that they can get their thank you materials just after the holidays so they can send them out before too much time passes.
5. Travel Items
People travel on the holidays perhaps more than any other time of the year. Remember that people still need to buy things to travel. A local coffee shop could remind customers to get their coffees early in the morning when they leave for Grandma's house. A simple email reminder at the last minute could intrigue people to buy something to make those traveling hours more enjoyable. It could be coffee, music, a DVD for the kids in the backseat.
6. Hotels and Lodging Ideas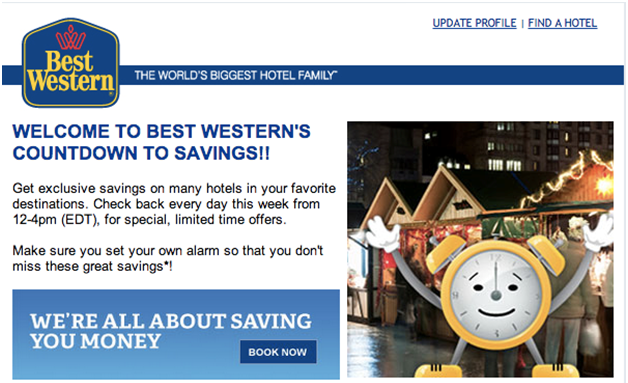 The Best Western could come in handy if there aren't enough beds over the holidays.
It seems like something always comes up last minute when there is family involved. A hotel or bed and breakfast could send out a last minute opening reminder just in case someone needs a room to stay during the holidays. You never know when a snowstorm hits and someone needs to spend an extra night in town.
7. Last Minute Gifting Materials
What is one thing you can run out of just before you leave for Grandma's house?
It's wrapping paper.
You can tear it along the way or just run out before you wrap that last gift. If you supply gifting materials make sure everyone has filled up on everything so they can make sure all those gifts are ready to go.
8. Send Out Holiday Wishes With a Thoughtful Treat
Everybody is excited on Christmas morning. The kids open their gifts, everybody enjoys breakfast and after a few hours everybody is ready to sit back and relax.
These days, people start checking their phones when this happens. Send out your holiday wishes and maybe include some interesting reading material for your customers. Provide some of your favorite articles from the past month that would entertain the subscribers of your newsletter as they sit around and relax.
9. Send a Gift of Your Own
Not many businesses send out gifts via email. Sent something to your clients that would put a smile on their faces on Christmas morning. It could be something as simple as a gift card for a free song on iTunes (holiday music of course) or something simple. Just the thought can be something to make your clients feel special during the holidays.
10. Send out Checklists for After Holiday Items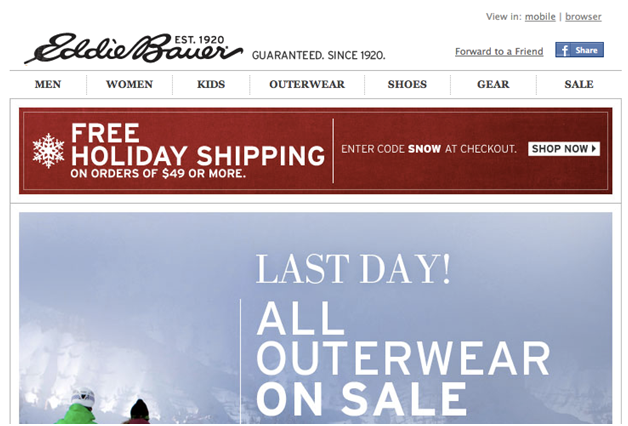 The family will need winter outerwear for after the holidays like these options from Eddie Bauer.
What are the things your customers will need after the holidays?
Well, if they have kids they'll probably need lots of batteries for all the new toys. There are other items people need just after the holidays. They have some time at home with the family maybe for a couple days. Think about what they need and send them a reminder just before the big day.
Conclusion
The holidays seem to have started early this year and your email program is probably well under way. But there is still time to plan for those last minute holiday emails. You can grab attention throughout the season and keep those customers engaged and interested (and buying) throughout.
Hopefully these suggestions provide a little inspiration for your last minute holiday email plans.
Related articles
Archives